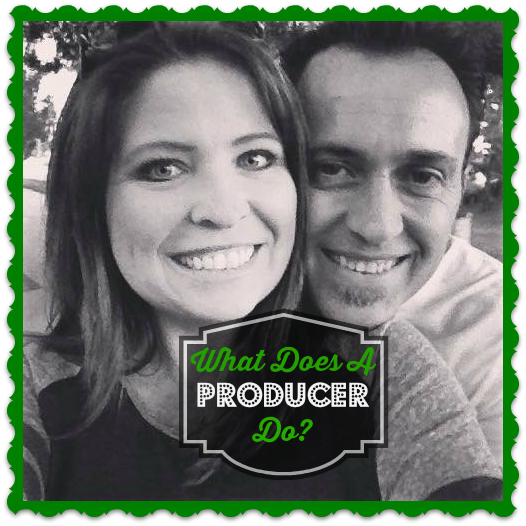 Like most of you, I wear quite a few different hats. One of my favorites is that of producer. People often ask me what it's like to wear the producer hat and what exactly it is that producers in Hollywood do, so I thought I would share a little bit about that today since I don't talk about it very often!
I became a producer by choice and Providence and largely in part because I married a man who was married to Hollywood before he tied the knot with me.
My husband, Guy, is passionate about everything to do with TV and Feature Films. It's in his soul. So naturally, that rubbed off on me. As an English major and former literature teacher, nothing gets my motor running more than an epic story. It became a natural decision to put our heads together and form a production company. Long story short, it became clear that being partners in marriage and partners in parenting would set us for success as partners in our life's work as well.
You can read more about those details here in this post from Heather MacFadyen at God Centered Mom!
We started our company, Storehouse Media Group, about three years ago and hit the ground running creating shows that we wanted to watch and that we felt would have a wide appeal to audiences while also honoring God and inspiring others.  We feel sort of like unsponsored missionaries so we aren't shy about pleading with anyone and everyone who will partner with us in prayer to be a force for Truth and the love of God in Hollywood!
So what does it mean to be a producer? What do we actually do?
Producers, produce! That's what we do. We take an idea and see it through to the end, overseeing every detail of how a TV show or film comes together. It involves hundreds of talented people who excel in what they do whether its scouting for a perfect location to film or working on contracts to make certain every "t" is crossed.  Producers are visionaries and detail-oriented leaders. They persuade people to team with them and make sure that every person, place, and thing fits under the umbrella of the vision and purpose of each project. Good producers are great with people, studious decision-makers, and careful at negotiating.
Here's an example of one of our 20 or so projects currently in development:
Some years ago now, I was introduced to a brilliant best-selling writer, Tricia Goyer, who had dozens of novels under her belt.  We talked on the phone and instantly hit it off.
Eventually, that led to gaining the options--temporary rights to develop, sell, produce, and distribute a project based on existing material-in this case, about 15 of her novels!  The bonus for me and Guy is that we also gained dear friends in Tricia and John!  We consider them family!
I'll skip about 2,000 other steps between that process and the fun part-attaching an amazing writing team to develop a one hour family and faith-friendly drama around Tricia's Big Sky book series. Guy and I knew that we wanted to work with some celebrated writers who understood the faith audience. Enter, Brian Bird (Hallmark's When Calls The Heart, Captive) and John Wierick (When Calls The Heart, Step by Step).  These guys are some of the best writers in the industry and they too have become fast friends!
After nearly a year of writing, notes, adjustments, meetings, and pitches (meetings where we present our projects) to major studios, we were able to attach both Sony Pictures Television and Walden Media to produce the show with us! That means they are willing to put up financing and all the weight of their award-winning experience and vast resources to make this show happen. That's a big deal and we couldn't be more excited that they also see the vision and widespread potential for this show!
At this stage, we are meeting with the heads of Sony and Walden to fine tune our presentation of Big Sky so that we can pitch it to networks-the gatekeepers of what goes on air and into your homes! This past week, we had a brainstorming session that involved 8 executives and writers! Guy and I thrive on the energy and collaboration that happens at these sessions!
Meanwhile, we have begun to think about casting and are starting to make lists of names that include our favorites for the many roles this show will offer-this is the really fun part!  Because music is a central aspect of this show, we listen to musicians and go backstage to meet them at concerts. Also the fun part.
Once a show is picked up by a network, we hit the ground running to audition cast, approve locations, manage budgets, evaluate costuming, tweak scripts, talk to marketing gurus, and eat too much craft services food.
The flip side of the coin is that you can work for years to develop a show and have it die a sad and painful death in the blink of an eye for any number of factors. And that is why I am constantly asking YOU all to pray!!
I'll go ahead and beg you to do so now. I'll wait. :)
We will be setting meetings for Big Sky over the summer months, so keep the prayers coming!
Meanwhile, the amazing Tricia Goyer continues to faithfully pump out new books every year. In July, her newest book, Prayers That Changed History becomes available! I got my hands on a copy early and even though it's for the kids, I CAN'T PUT IT DOWN! It's becoming a favorite!
AND, I am giving away a copy to one of YOU!!  Who wants it?
Just leave a comment and tell me which of Tricia's books is your favorite, or tell me a little bit about the reading habits of your family-or even your prayers for me and my husband as we seek to spread the light of Truth in Hollywood, and I will enter your name in the contest!
I'll draw a name randomly on Sunday, July 5th and notify the winner on my Mother Of Knights Facebook Page on Monday morning! Good luck! Don't forget to share this post with your friends who would be willing to pray for us!
WINNER! There were so many entries that I decided to pick TWO! Congratulations to Loraine N. and Sara Merry! You both are our WINNERS! I have emailed them both and will wait a few days for a response, otherwise, we will choose a new name. Hope you enjoy the book, Ladies!!
Follow me on Facebook for more inspiration and discussion! Find me on Twitter: Amber Lia and Instagram: MotherOfKnights. Start pinning on Pinterest as well!